Memorial photographs and artwork, including favorite quotes, are popular ways of personalizing the monuments of our loved ones. We offer two excellent processes for adding permanent photographs and artwork to the monuments that we create: Ceramic Portraits and Laser Etching.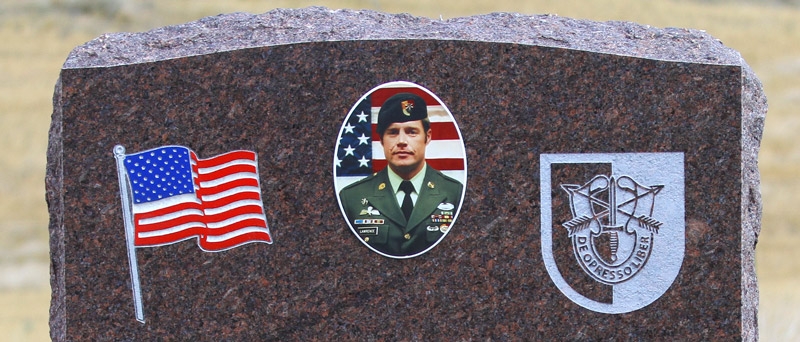 Ceramic Portraits
Stevenson & Sons Monument Company can add porcelain photographs and artwork – in black and white, or in full color – to the monument you wish us to craft for your loved one. Ceramic portraits can be crafted in several sizes and shapes, and then permanently embedded into the surface of the monument. Ceramic portraits can beautifully enhance any granite colored monument, since the photograph or artwork is applied to the ceramic – not the granite's surface. This ensures that the ceramic personalizing will be eye-catching, and not get lost in the rich surface colors and textures of the granite. Choices of shape include ovals, rectangles and heart shapes.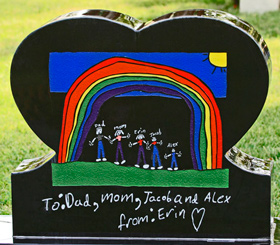 Touch Color
If desired, you can also add "Touch Color" to your monument. This technique is perfect for colorizing artwork, roses or anything else you desire.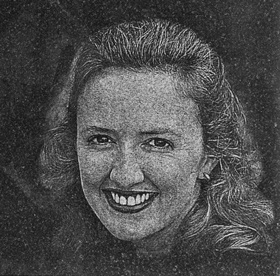 Monument Etching
To achieve the very fine detail, and to maximize the enduring crispness and clarity, we do not etch colored, gray or white granite monuments. Etched designs must be made on black granite only.
Our etching technique is permanent
Designs, pictures, scenes and portraits may be either plain or color-etched
We can use photos of any size and subject matter: from single and family portraits to panoramic ranch and farm scenes